Batman and Superman meet inside the new EMTEC's high tech products range dedicated to the new "Batman v. Superman: Dawn of Justice" movie's worldwide theatrical release
The hugely anticipated blockbaster Batman v. Superman: Dawn of Justice  should be released worldwide on March 25th, 2016. To celebrate the event, EMTEC lauches a new line of high tech products under the official DC Comics licence. Its USB flash drives and power bank should appeal to all DC Comics universe fans.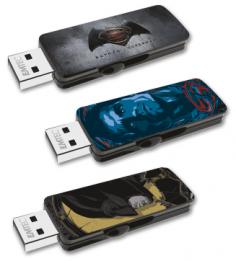 Choose your side: the Man of Steel or the Dark Knight?
Sober colors are proper to this new USB flash drives collection design inspired by the famous super heroes adventures. From Superman's suit red shades and the cult S to Batman's iconic mask and chic black outfit, EMTEC was willing to achieve the greatest possible coherence between the movie color codes and its products design, for the upmost pleasure of the characters' fans. 16GB storage capacity will allow you to easily store and transport all your favorite super heroes movies and lots of other multimedia files. Available in both single or 2-packs, also dedicated to the DC Comics world, Batman v. Superman USB flash drives will augment your super heroes gadgets collection. A great gift for all comics fans!
Fight your smartphone's or tablet's low battery warning with Batman v Superman power bank!
No need to introduce the power banks anymore: convenient to charge your mobile, device even when you are far from the outlet, compact, lightweight, and easily transportable to suit perfectly to nomad users. To celebrate the titans of DC Comics first meeting on the big screen, EMTEC adds a power bank to its Batman v. Superman products line. Compatible with all USB devices, this 5000mAH portable power bank should completely refill your smartphone two times and your tablet one time. Its slim design allows keeping use of the smartphone while charging. The original movie logo placed in the heart of the products artwork is hidden under 5 layers of protection making the product shock-resistant. Perfect for a business travel, family trips or outdoor activities, Batman v. Superman power bank will give super powers to your mobile devices for hours of additionnal energy !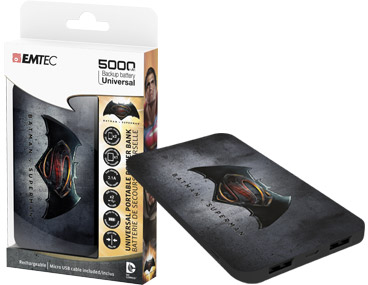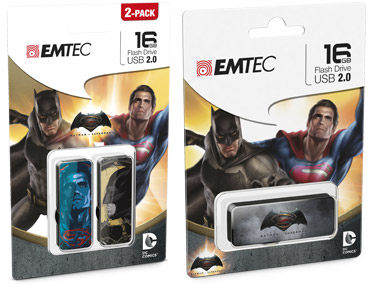 Some additional information
USB flash drives
Capacity : 16Go
Compatibility : USB 2.0
Availability : March 2016
Recommended price:
Single pack : $12.99
2-pack : $17.99
Power bank
Battery capacity: 5000 mAh
Compatibility : microUSB
Dimensions : 128 x 68 x 9 mm
Availability : March 2016
Recommended price: $19.99